Welcome to Green Meadows Academy
Ready. Respectful. Safe.
Green Meadows Academy
Green Meadows Academy is a community special school in Leeds, and a proud member of the Wellspring Academy Trust. We offer fantastic learning opportunities for children and young people aged from 2 to 19 who have a range of special educational needs and disabilities. Many of our pupils are on the autistic spectrum, and a large number can struggle to engage, or can become anxious, as a result of a communication difficulty.
I am privileged to lead a team of outstanding staff, with a values-driven child-centred approach to education, and we are proud to say that we meet the needs of all our young people – nurturing, supporting and guiding each of them to realise their potential.  All of our pupils are our priority, and they sit firmly at the heart of everything we do.
Welcome to our website, and if you have any questions, queries or would like to arrange a visit to our school, then please do not hesitate to contact us – we would love to hear from you.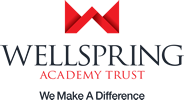 Wellspring Academy Trust
We are privileged to be part of Wellspring Academy Trust who believes that every school is unique because it has a unique history; it serves a unique community context and is full of unique individuals. They value and celebrate the unique identities of their schools. 
Primary School
Secondary School
Partnerships
Post-16
We are having extensive building work over the summer months following a significant investment in our schools by Wellspring.  Our teaching staff will not be able to access the school building until very late in the holidays in order to plan and prep their classrooms.  As a result we will taking Monday 6th September as a Closure Day, and staff will take this time to get ready for the forthcoming academic year.
Tuesday 7th and Wednesday 8th September will be INSET Days for staff training, and the school will continue to be closed for all pupils – including our partnership sites.
All pupils, across all sites, will return on Thursday 9th September.
Please find below a list of the Training Days for academic year 2021/22.
Closure Day;
September 6th 2021, all sites closed
Training Days;
September 7th 2021, all sites closed
September 8th 2021, all sites closed
February 11th 2022, all sites closed
July 25th 2022, all sites closed
July 26th 2022, all sites closed
Closure Day
School closed to all pupils
Staff Training Day
School closed to all pupils
Staff Training Day
School closed to all pupils
Start of Autumn Term
All pupils return to school