Our Parents and Carers
You are the experts in terms of knowing and understanding our children and young people, and we are therefore keen to engage you in all aspects of our work.
Clear expectations are set for staff with regard to the regularity and ways that we involve parents and carers in shaping our educational provision, such as drawing up and reviewing Individual Learning Plans.  We also hold regular Coffee Mornings, training sessions (such as Autism Awareness, Managing Challenging Behaviour, Embedding Routines etc.) whole-school performances, and extremely well-attended Christmas and Summer Fayres.
Our annual parent survey and our ongoing gathering of information via the statutory review process tells us that the vast majority of parents and carers are highly appreciative of what we do. However we do not rest on our laurels and always appreciate feedback even if not of a positive nature.
Parent View
We are always keen to hear about how well we are doing. The views of our Carers and Parents are really important to us. Also Ofsted are equally keen to gather these views. Please log in to the Ofsted ParentView website to give your feedback. The page can be found HERE.
Mental Health & Wellbeing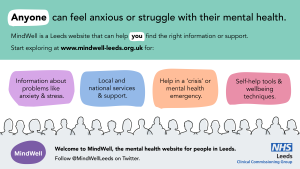 Support Services
WAT Leeds Support Services