Safeguarding
Safeguarding is everybody's responsibility, and Green Meadows Academy is committed to safeguarding all our pupils in line with our statutory duties, roles and responsibilities under Section 175 Education Act (2002), the Children Act (1989) and Section 42-46 of the Care Act (2014) in ensuring each and every learner is protected and safeguarded against potential harm and abuse.
Our Designated Safeguarding Lead is Ryan Gladwin – Assistant Principal
Ryan Gladwin (Assistant Principal – DSL), Louise Graham (Assistant Principal), Jade Fisher (Pastoral Officer), Sam Firth (SEMH Interventions), Angela Lucas (Pastoral Officer), Manpreet Nangla (Behaviour Support Worker) and Diane Pollard (Cherry Class, Brudenell Primary School Partnership) are also Designated Safeguarding Lead trained.
Green Meadows Academy Designated Safeguarding Team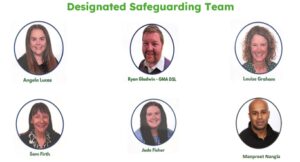 Our Safeguarding Policy and Child Protection Policy can be found on the Policies and Procedures page. 
The Prevent Duty
Green Meadows Academy recognises and responds to its duty to protect our learners from the risk of radicalisation under the Prevent duty. Please click on the link below regarding the Government's publication on preventing children from radicalisation – The Prevent duty.
Protecting Children from Radicalisation
Please click on this link for A Guide for Parents
Other Information and Advice
Please also see links below for further information and advice regarding;
Child Sexual Exploitation (CSE)
Keeping Children Safe in Education
Leeds Domestic Violence Service
Leeds Domestic Violence Service (LDVS – http://www.ldvs.uk) believe everyone has the right to live safe and happy lives. They support people of all genders in Leeds affected by domestic violence and abuse.
Whatever you may be going through, they are there to listen without judgement and support you however they can. You can find out more about how they can support you by calling the 24 hour helpline on 0113 246 0401 or emailing hello@ldvs.uk.
Mental Health & Wellbeing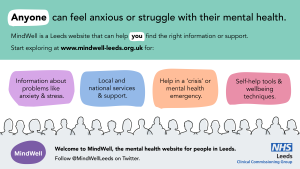 Privacy Notice
At Green Meadows Academy  we are committed to safeguarding the privacy of our website visitors; this policy sets out how we will treat your personal information.