Our Curriculum Offer
Green Meadows Academy Curriculum Model (click to expand)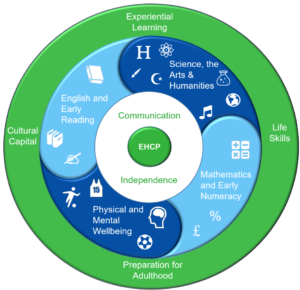 Our Mission
At Green Meadows Academy, we envision a world where every child, regardless of the barriers to their learning, is provided with the opportunity to thrive, grow, and succeed. Our mission is to be a centre of excellence for children with special educational needs and disabilities who are happy, successful and well supported.
Our core values are rooted in a commitment to the belief that every child can be empowered to succeed in a compassionate and inclusive environment. We are dedicated to providing a nurturing and supportive setting where our students can thrive academically, socially, and emotionally.
Our mission is to: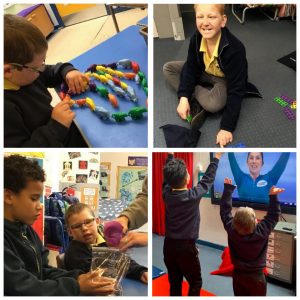 Empower We empower our students to embrace their individuality and develop the skills and confidence needed to overcome challenges. Through tailored education plans, we aim to unlock their full potential and foster a sense of self-worth.
Nurture We foster an inclusive community that values diversity and celebrates differences. Our school is a place where acceptance, respect, and understanding are the cornerstones of our daily interactions.
Thrive We are committed to excellence in education and support services. Our dedicated team of educators continually strive to improve their skills and find and apply the best practices in the field of special education.
At Green Meadows Academy, we measure our success not only by academic achievements but also by the growth in independence, self-advocacy, and happiness of our students. Together, with unwavering dedication and a shared commitment to our mission, we transform lives, one child at a time.
Empower – Nurture – Thrive
You can see a copy of our updated Curriculum Policy here.
Curriculum Intent
Our curriculum is inextricably linked to our mission statement and our desire to prepare pupils for their next steps in life.  
As a school, we are determined to:
To do this we:
Ensure every pupil accesses a personalised and purposeful curriculum.

Ensure pupils' EHCPs are our primary focus
Set out specific learning intentions for each pupil in an ILP.
Carefully sequence learning to support the acquisition of knowledge over time
Ensure logical connections between curriculum areas
Use a wide range of creative, multisensory and differentiated learning activities
Enhance our offer with carefully planned interventions
Liaise with and act on the advice and guidance of specialists

Engender a sense of belonging

Create an environment that is conducive to good communication
Engage pupils with stories that have characters with whom they can identify
Provide opportunities for pupils to make and sustain friendships

Build independence

Promote self-regulation and independence
Work closely with parents and partner agencies to establish future pathways
Provide learning activities that are scaffolded and matched to the pupils' individual needs

Broaden opportunities

Raise aspirations and challenge stereotypes
Enrich our curriculum with a wide range of opportunities and experiences
Develop partnerships with external organisations and schools
Communication
Key to our success in every area is our approach to communication.  Communication underpins all areas of the curriculum and allows pupils to access learning and develop relationships.  Our ultimate aim for all pupils is that they will establish a system of expressive and receptive communication in whatever form is appropriate to them.  Specific details are set out in our Communication Strategy.
You can see a copy of our updated Communciation strategy here
How our curriculum is implemented
Our Approach
In the classroom we use a multi-method approach that integrates knowledge about special educational needs and the way children learn. 
In every classroom you will see teachers …
Promoting communication to engage pupils and develop their understanding of key concepts. As pupils become more effective verbal communicators,  they will share ideas, enhance and expand their understanding, challenge and support thinking through talk.

Using stories to stimulate thinking, reinforce key concepts, develop understanding, challenge ideas and increase vocabulary development. 

Scaffolding learning to ensure pupils are as independent as possible.

Ensuring over- learning of key concepts and skills takes place.

Ensuring pupils are learning at their 'zone of proximal development'

Teach skills and knowledge following the 'gradual release of responsibility' model
The curriculum at Green Meadows is carefully sequenced at two levels:
Encoutering:
The Ecountering curriculum will:
Promote social skills and engagement  through a play-based, multi- sensory approach

Implement a total communication approach

Support pupils to identify their strengths and areas for development.

Plan lessons that incorporate opportunities for pupils to learn and practise new skills, nurture positive relationships and work cooperatively with one another.  

Model and scaffold tasks and activities.

Implement interventions such as Attention Autism, musical interaction and intensive interaction
Developing:
The Developing curriculum will:
Use instructional approaches that support pupils to take ownership of their own learning.

Start to use higher order questioning to encourage critical thinking and problem solving.

Encourage pupils to apply skills in a contextual environment.

Encourage the application of skills in real life situations.

Involve pupils in peer and self-assessment.

Support pupils to evaluate and assess their own learning.

Promote a dialogic approach to learning
How the Curriculum is Organised
Our Curriculum is divided into seven areas:
| | |
| --- | --- |
| Curriculum Area | This area includes aspects of: |
| Communication and English | Speaking and listening, reading, writing, social interaction |
| Maths and Finances | Number, Using and Applying maths, Shape, Space and Measure |
| My Body | PSHE, RSE and emotional wellbeing,Physical education, physical development, health and wellbeing |
| Humanities | History, Geography, Religious Education |
| Creative Arts | Music, art and drama |
| Technology and Science | Science, IT, Design Technology, Food Technology |
| Life Skills | Personal Development, Careers, vocational learning, emotional wellbeing, Duke of Edinburgh Award, work ecxperience |
Our Curriculum planning frameworks can be found by clicking here