Our Curriculum Offer
Our Intent
A great curriculum is responsive to the needs of individuals and enables them to flourish academically, spiritually, morally and culturally. The curriculum must excite and challenge pupils whilst also provide them with the knowledge and skills necessary to facilitate success in later life through independence and meaningful participation in society. Our curriculum model is structured to allow individual student EHCP needs to be fully met.
Curriculum Objectives
The Green Meadows Academy curriculum is carefully designed to meet the needs of every child. We have created a curriculum comprised of 5 key components laid out below, and that puts individualised outcomes at the heart of its practice, ensuring we meet our statutory obligations as laid out in the Code of Practice.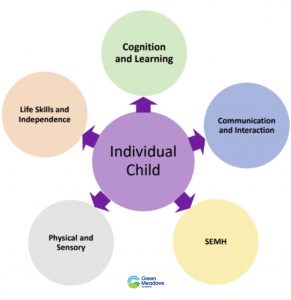 Our Implementation
We believe that children learn better when encouraged to use their imagination and apply their learning to engaging contexts. Our curriculum provides lots of learning challenges throughout the academic year that will require children to solve problems, apply themselves creatively and express their knowledge and understanding effectively. Our broad and balanced curriculum is designed to meet the academic, moral, spiritual and cultural needs of all students and ensure they are fully prepared for adulthood. It is delivered through 4 interlinked approaches to learning: classroom-based learning, experiential learning, applied learning for problem solving, and sensory learning.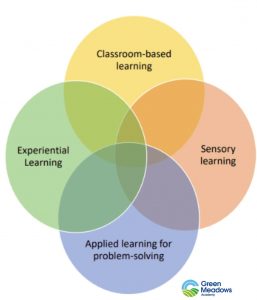 The curriculum is split into discrete subjects and areas of need and each has a tailored intent and implementation statement describing the knowledge and skills the subject aims to develop, and outlines how knowledge and skills should be developed across the range of learning environments at GMA. Where opportunities permit, activities to link knowledge, skills and understanding from different subjects and curriculum strands are planned to reinforce learning. We encourage teacher professional autonomy and promote a range of approaches to teaching and learning, recognising that they will vary according to the needs of individuals and groups of pupils for each subject.
The curriculum follows a 3-year rolling programme with different topics 6 times per year, with separate topics for the different phases to ensure age-appropriateness. These topics support the generalisation of knowledge, skills and understanding into different contexts and environments, with a focus on real life contexts wherever possible.
At Green Meadows Academy we aim to develop reading skills with our pupils in order to improve their life chances, provide them with life skills and to promote reading for pleasure and enjoyment. We encourage children to develop an enjoyment for books and to understand that print has meaning. We aim to make the teaching of reading as individualised as possible so it is accessible and appropriate for all students in our school.
Students who are not able to access subject-specific learning and are working profoundly beneath age-related expectations may make the most progress through an informal curriculum that is delivered with a sensory approach.
Pupils development across the four broad areas of need are supported, and there is a focus on the five areas of engagement:
1. Initiation
2. Persistence
3. Exploration
4. Anticipation
5. Realisation
Our staff work closely with a range of multi-disciplinary teams such as nursing staff, physiotherapists, speech and language therapists, and the visual impairment team in order to support pupils' needs and compliment curriculum delivery.
Our Impact
Students use and apply knowledge, understanding and skills to enable them to be active, independent citizens in the wider community.
External Accreditations 2019/20
For a full break down of results for all external accreditations gained at KS4 and KS5 in 2019/20 please the attachment below;
GMA Accreditations Summary 20192020